Fellow BEAMers, meet...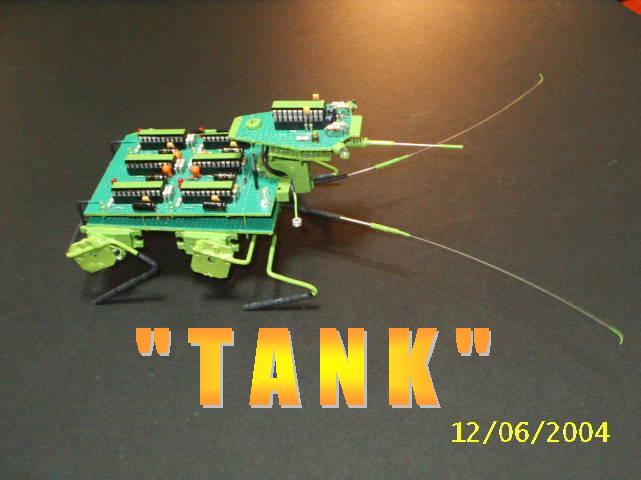 ...my latest walking / exploring machine!
---
---
Introduction:
This is Tank, a 5-motor walker (including its head), that seeks out a bright light and goes towards it. This robot was inspired by many things, like the Scoutwalker 2.2, Mark Tilden's Unibug 2.0, Strider and many other bugs combined. Some says, it looks like a grasshopper or a praying mantis. But I came up with this figure, that looks like a little bit of an army tank (with legs). So, that's why I named this creature, "Tank".
Tank has 5 tactile sensors for obstacle avoidance. It's eyes are 2 phototransistors and was angled at about 30 degrees. Tank also uses 5 micro servos for the legs and the head, that makes it much smaller than the Scoutwalker II. One of its tactile sensors are used as a "panic switch" (which I call it), which makes it back-up for a few seconds (it backs-up and turn sometimes) when it is stuck in a critical condition, like in a leg of a chair or a table.
The whole circuit was carefully designed and made, using a universal board with solder-ringed holes. All the wirings and jumpers are underneath the board, so the top is perfectly clean and neat looking. You'll notice that, it has 2 boards for the body. One is for mounting the servos (legs), batteries, charging socket, LED charging indicator, power switch, tactile sensor and head mounting. The other board is (obviously) the circuit board.
By the way, I would like to thank Mr. Ray Diaz for helping me out, when I needed some 2nd opinions for "Tank". Thanks dude! ;-)
---
Features & Behaviors:
Phototropic Bicore Head (with left and right limit switches).
Scoutwalker II's circuitry (with modifications).
Has a total of 7 sensors - 2 phototransistors (eyes), 2 tactiles (left & right) and 3 "panic switches" (front, left & right shoulders).
Moves forward, backward, turn left & right and sometimes backing-up & turn.
Seek/explore first for a few seconds (light-seeking) then walks.
Has a charging socket.
1 LED charging indicator.
1 power switch.
Uses only 3.6 volts Ni-Cad batteries (3 "AAA"s with 500mA each).
Uses centering-springs for the legs.
Has left and right bright-red-LED signal lights, to indicate a triggered tactile.
Infrared sensors (not included - for future development), that can see objects or persons and goes towards it. I detached this sensors because it eats too much power, using a 3.6 volts only. Maybe a separate battery will do.
Additional notes:
The "panic switch" sensor makes this bot back-up for a few seconds, just to escape in a tight and critical conditon (trapped), especially when it is stuck in a leg of a chair or table. Eventhough the head is still seeking (left or right), when one of the panic switches is triggered, the seeking behavior will stop at once and the bot starts to walk backwards (reverse). These panic switches are located on the front head and its left and right shoulders.
The bicore head uses "2" 74AC240 chips, stacked together, to produce more output power.
The bicore head uses IC pin sockets for the resistors and the two .01uF (103) monolythic caps, for easy configurations on the head's behavior.
The front panic switch to its head makes it back-up at once and to prevent the head from banging on something...which might damage it.
Legs were tuned (bent properly), that makes it walk, turn and reverse successfully.
---
PICS
( Just click any picture to enlarge )
---
VIDEO CLIPS
Tank avoids an obstruction. 2.96MB
Tank bumped its head on the leg of a table and escapes. 4.02MB
Tank turns toward the flashlight. 2.12MB
New! Tank walks across an obstacle (wood). 4.95MB
New! Tank walked straight to the wall and turned in a few strokes. 5.85MB
New! Tank encountered a dead end. 7.18MB
---
Copyright © 2004 by Harold R. Ilano. All Rights Reserved.
BEAM Patents by Mark W. Tilden.
---
Visitors since Dec. 7, 2004


Hit Counter